Donnerstag, 19. September 2019
There is nothing a gardener can´t do
dr.lawnmower, 20:33h
Tuesday 17th September was all about civil engineering. Our construction site is located at Høbro south to Åalborg and 20 minutes to drive from Elmerhøj via highway.
Espen the apprentice, Amelie and me had to take out the kerbstones the civil engineering firm had put in concrete. The reason for that were some settlements near the street. With an excavator, shovel and musclepower we took the kerbstones out and leveled the ground anew. For the next day we prepared the strings at the existing kerbstones to get the row in place. Unfortunately this construction site has nothing to do with our everyday gardening work as we are actually subcontractors to the big firm Karl Jensen. No plants at all
We had to finish a bit earlier, there was no trailer left in the morning so we could not get any concrete for the kerbstones. So we had plenty of time before picking up Lars and Jenny from Nygaard...
In the evening we made some selfmade vegetable stew which was awesome! After some card games everyone fell exhausted into bed.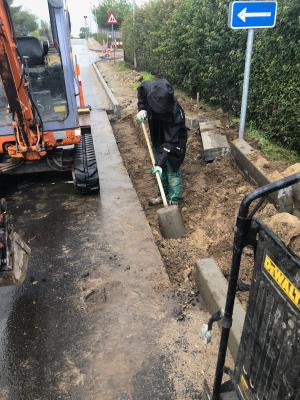 In the morning it was raining a lot! After lunch the sky was nealy blue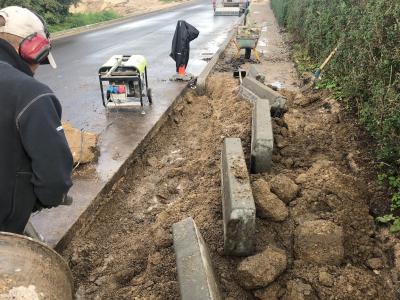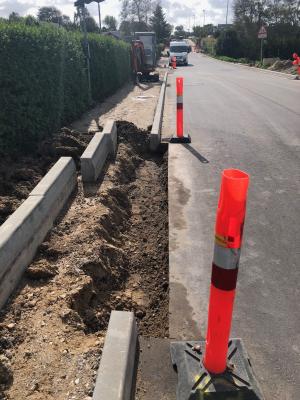 In Germany we would need to get a traffic bypass plan... the danish guys just put some cones at the needed places. The pedestrians have to walk right on the street to cross the construction site, in my eyes a very dangerous endavour
... comment