Sonntag, 30. September 2018
Memory: Big Family of Randers Regnskov
leilona, 15:34h
My internship at Randers Regnskov ended more then one week ago and I really enjoyed the time I was allowed to spend at such a beautiful place.
All of my colleagues there were very open minded and welcomed us intern newcomers to the "big family of Randers Regnskov".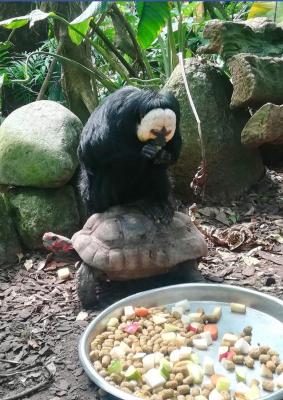 During the three weeks I worked at RR, I was introduced to many different fields of work, all of which, I thoroughly enjoyed.
It is really inspiring that the concept of the zoo is a big innovation in Denmark and even Europe.
When the basic design of the zoo was presented to other international centres, few people believed that the concept would work.
But at Randers, people believed in the idea of the "wild rainforest" concept and so ignored the naysayers and built it anyway.
Now, more than 20 years later, the zoo is one of the biggest attractions in Randers and beyond.
For me, this is a good example of the power in believing in yourself. To be powerful and brave, whilst forging ahead with your own ideas, regardless of what others feel or think about it.
There were other things that made the zoo unique. I liked the way the employees are treated. They feel appreciated by management. It feels like a big (working) family because everyone gets on and loves working together. The staff even tried hard to involve all us interns. For that, they planned activites, such as playing games or doing sport together.
Another thing I really appreciate is the special way each employee treats the animals at the zoo. They really care for them. When I asked about a particular animal, the staff were able to describe each animal's individual personality and what they like/dislike. So, these animals were treated not as objects, but as a living things which have a soul and personal needs.
I think, the quote of Immanuel Kant is right who said:
"we can judge the heart of a man by his treatment of animals."
I think this attitude towards animals and even nature itself is the way forward to ensure we protect nature in the long term.
... comment