Dienstag, 11. September 2018
First weekend in Denmark
isakall, 21:35h
Only an hour drive away from Aalborg you can find the little village Skagen. At first there is nothing special about it. It is a nice little fishing village with red brick roofs and white windows. But Skagen is a special place. Only a some minutes away up the coast you can find a place called Grenen, it's the northernmost corner of Denmark. It has a beautiful coastline and here you can witness a great spectacle of nature. This is the place were North and East Sea meet or like they say in Denmark Kattegat and Skagerak . If you ever wanted to say you stood in two seas at the same time you have to come here. You can witness both seas meeting each other by the stirred water when the waves clash together.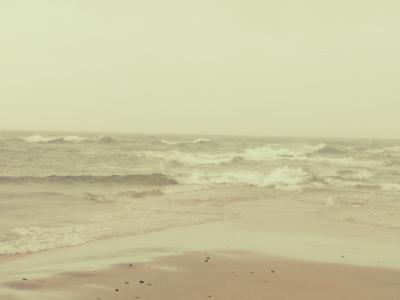 Maybe because this is a special place of nature or it's the air around, you definitely have a special feeling of admiration while strolling along the coast. Many guides talk about the special light this place has and it truly is a beautiful place where you can take lots of photos.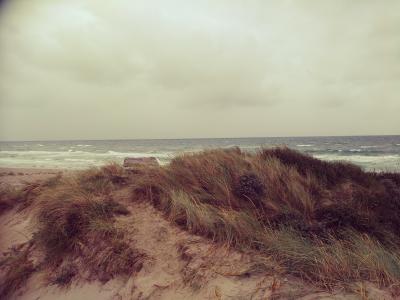 Make sure to always take a rain-cape with you otherwise you could be surprised by the rain. The weather changes a lot in Denmark because the sea is all around it so even at a sunny place like Skagen you can suddenly get drenched if you are not careful enough.
It was a wonderful weekend we spend all together and Louise and Jakob who are staying in Randers joined us as well. I'm definitely looking forward to the next weekend where we can get together again.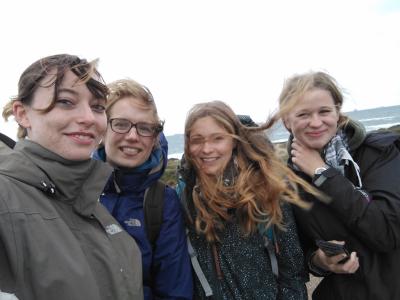 ... link (0 Kommentare) ... comment
Mittwoch, 5. September 2018
Tuesday 4th September 2018
jak0bsmuschel, 21:18h
Two of us, Louise and me, are staying in Randers with host familys.
Randers is the 6th biggest "town" in Denmark and like an hour car drive away from Aalborg, where the rest of us stays.
One of the greatest tourist attractions there is "Randers Regnskov", a zoological botanical garden.
The lush, green environment there is home to everything from tiny, industrious leaf-cutter ants to the majestic jaguar, whisking you in the blink of an eye from the cool temperatures of northern Europe into a tropical wonderland...
And thats our working place for the next three weeks.
After er were shown around on monday we could finally start working the next day.
Our task was to cut all the greens grown over and through the fence wich isolates the property of Randers Regnskov. It is important for protecting the fence, otherwise the trees would destroy it with their strong growth.
Some of the limbs we cut were given to the goats, pigs and cows and it was a pleasure to see how happy they were nibbling the leaves and the bark.
After a whole day of cutting we were exhausted but happy.
Everyone at Randers Regnskov is very nice and helpful.
For myself i had little troubles with the english language but i am here to improve that and think it will get better within the next three weeks.
I am really looking forward for the next days.

Jakob Wilhelm
... link (0 Kommentare) ... comment
The first few day at Buus&Co
kayro, 19:37h
After three days of work I am getting used to live in this new environment, from Aalborg to Denmark you can see differences to Germany but also many similarities.
Our welcome at Buus&Co on Monday was warmly and we got a tour around the company, so we wouldn't get lost. The company recently moved to a newer and bigger location and so it is hard to navigate for newcomers.
I was put in the maintenance part of the company and so I got to trim hedges, mow lawn and to clear beds of weed.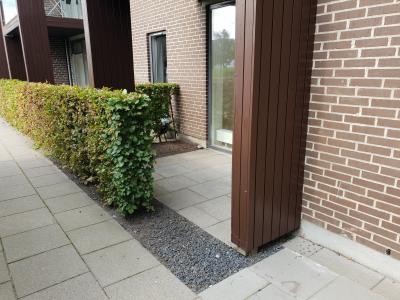 My colleagues Martin and Morten told me quite a lot about working in Denmark and what places I should visit in my leisure. I am really looking forward to those.
What amazed me most was how different the gardens look in Denmark, but if you look close you can still see the same plants everywhere.
'Lonicera nitida' as ground-cover plants, 'Fagus sylvatica' as hedges and even the same weeds torture the Danish landscapers ('Elymus repens' just grows everywhere).
And no matter if you call it "slåen" or "Schlehdorn" as landscaper we call it 'Prunus spinosa' and so everyone can talk about the same plant.
... link (0 Kommentare) ... comment
Montag, 3. September 2018
First day working at OKNygaard
marmar, 21:13h
After a long trip with one stop in Hamburg, we arrived in Aalborg yesterday.
It`s our first time in Denmark, so everything is new and exciting.
Soon after we arrived, we met Finn, he showed us around at Sportshøjskole and gave us the important details about our stay here in Aalborg.
In the evening we walked around in the city and visited the harbour.
After a long day we finally got to bed and slept like a log. ...
... Early with the sunrise our first workday began.
Isabelle and I are working together at OKNygaard and arrived there at 7 o`clock and we enjoyed a warm welcome.
We were assigned to the maintenance team and planted many Symphoricarpus x chenaultii `Hancock`(It`s a plant we definitely know!) in Frederikshavn in front of an apartment complex.
It was really interesting to see the differences between planting in Germany and Denmark. There are not many but some things are slightly different.
It was a great first day and we had a lot of fun.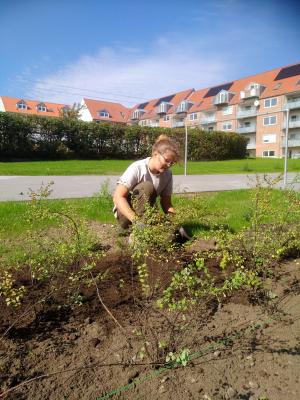 We are looking forward to the next days and hope we will experience many difference things.
Good night! Godnat! And sleep well. :)
P.S.: It doesn`t matter where you are, you will always meet a "Schwabe".
We had a nice encounter with a man who lived in Ludwigsburg many years ago and he still knows how to speak "schwäbisch".
... link (0 Kommentare) ... comment
Montag, 25. September 2017
Flashback Denmark
s.eisele, 21:25h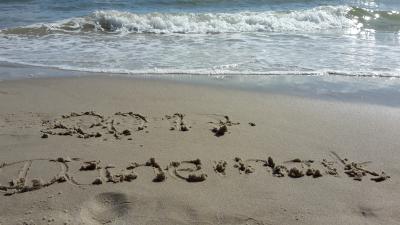 After one week back at home I had enough time to
think about my trip in Denmark.
I am so grateful that I had the opportunity to spend
three weeks in a foreign country for living and
working there.
It was a great experience to see how other companies
are working.
I could find out many differences, for example that
they use other materials or different tools.
I promised my Danish colleagues that If I come back
some time, I will bring them an original German shovel ;)
There was also enough free time to discover the city of
Aalborg and the beautiful landscape around.
Moreover the trips to the sea on the weekends were
great, especially the trip to Skagen, where East-and
Northsea come together.
Now it is time to say thank you to all who realized this
amazing project .
Thank you to my Danish company Buus & Co.
which treated us like real colleagues.
Especially thanks to Per for his great engagement and
hospitality.
Thanks to Marc, our cool guide in Aarhus.
Furthermore thanks to our German teachers
Mrs. Mangold and Mr. Schrader and to the Danish
teacher Finn for their great organization and support.
Thanks to my German mates who spent this time
with me.
Last but not least thank you to my company at home
" Park und Garten Stefan Kelch" that supports me
at any time.
Greetings
Sonja
... link (0 Kommentare) ... comment
Dienstag, 19. September 2017
Work in Germany again
d-maier, 20:43h
Now my third day of work in Germany again is over and I'm writing this blog to past my time (3 weeks) in Aalborg/ Denmark. It was such a great trip I can't describe with words. I met so many nice peoples there and learned a lot about there life in Denmark. I'm spechless about the hospitality of the most danish people. I also really enjoyed the nature especially the beach. Furthermore I learned a lot about the different ways to work in Germany and in Denmark like using other tools and materials. Now our trip is over and it's time to say thank you to all those people who were responsible for this foreign internship. First I want to thank my boss Richard Messerle who gave me the chance to go there. Then I want thank all those teachers who where responsible for the trip especially Finn Rassmussen. We enjoyed the day with you. Furthermore I want to thank Martin Linnemann the head of the company Buus & Co. who gave us the possibillity to work in Denmark. You have a good organized company with a very nice climate. In the company Buus & Co. I want to thank also Per Kjaer who showed us his amazing garden (park) and gave us a private guide through one of the biggest nature reserves in Denmark after making some barbeque together. Last but not least I want to thank my workmates Sonja, Patrick, Max, Dan, Jonas, Fee and Felix for the nice time together. To sum it up it was a great and instructive time. Thank you! Greetings Dominik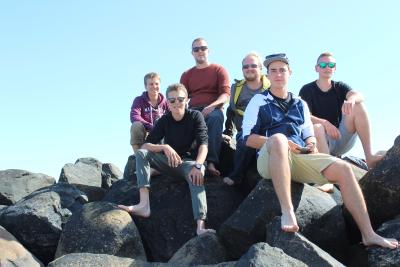 ... link (0 Kommentare) ... comment
Sonntag, 17. September 2017
Farvel Denmark
jonashoidem, 21:44h
After a long an exhausting journey home, I can allready say, that I will miss Denmark, Aalborg and its people a lot - especially the people of Buus & Co, where i could work, laugh and learn a lot about the work as a gardener, Denmark and the Danish language. It was a nice trip and nothing negative to say at all (except the long tour in my old and trusty VW Golf III).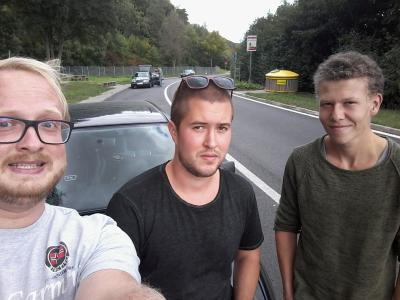 With this post, I will express my thank to everyone, who made it possible, that such a nice experience could happen. Thanks to Dan, Max, Sonja, Dominik and Patrick as my colleagues, co-drivers and roomates. Thanks Felix and Fee for your visit, it was a nice evening. It was a great pleasure to travel with you.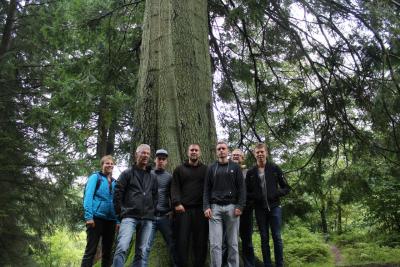 Thanks to Buus & Co and its employes, where we always felt welcome and almost home. Especially I want to say thank you to Per for his private tours and for showing us his garden-garden in his and our free time and all the stuff he did for us. Thanks Leo for keeping my Golf fuelled all the times. Thank you Martin and Inga for having us in the company. Not to forget Jens, Eivan, Ellen and the other workers of Buus. Kalle, thank you for the belt :-P.
Thanks to Mrs Mangold, Mr Schrader, Mr Jepsen and Mr Thybo for making it possible for us to visit Denmark at all. Especial thank goes to Mr Rasmussen Slaikjer for the organisation of our housing, the visit at the Agri College and the tour through and around Aalborg.
Thanks to my own Company, Mr Sauter and Mr Brachmann as well for borrowing me to our colleagues in Denmark.
I will never forget, what I saw, felt and learned in Denmark and I am looking forward to maybe seeing it again sometimes.
Greetings
Jonas
... link (0 Kommentare) ... comment
Freitag, 15. September 2017
Our Last day in Denmark:(
danone, 20:16h
Today we were working in aalborg at a patio we layed down some plates and leveled every single plate because we used a special system to attach them.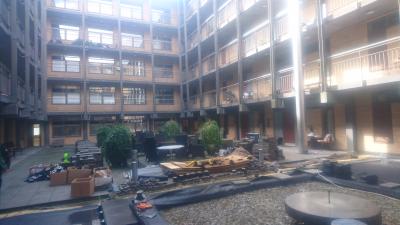 But like all good things our trip here to denmark has an end too and yeah its today:( We are all sad that we have to leave because it was a great time here and I enjoyed every minute here in aalborg I never met as much friendly and hospitable pepole than I did here in 3 weeks.
Now it´s time to say goodbye and I want to say a big thank you to the Company where we were invited to work Buus &co it was a great time with you guys i will miss it!
Iam looking forward to see you guys again.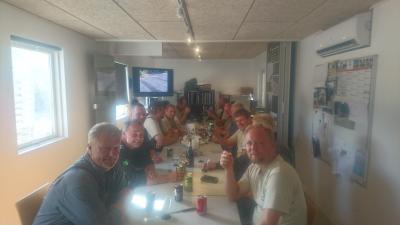 Greetings Dan
... link (0 Kommentare) ... comment
Donnerstag, 14. September 2017
My bicycle tour
s.eisele, 18:46h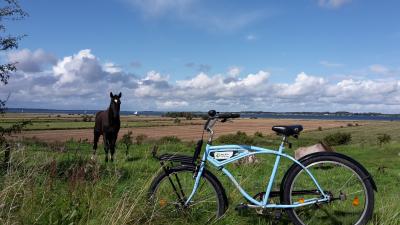 On sunday I made use of the sunny weather to make a bike tour towards Nibe which is
20 kilometrers west of Aalborg.
Denmark is perfekt for hobby – ciclists like me because most of the routes are flat and well signposted.
My trail led along the water which is passing Aalborg and ends in the North- and Eastsea.
I really enjoyed the beautiful landscape with its fields where some cows and horses grazed
and in the backround the water.
Also interesting were the small villages along the way because of their nice typical danish
buildings.
Just a short rain shower made me take a half-hour forced break under a canopy.
At this point I want to say thank you to my excange company Buus & Co. from where I could
borrow a bike for my stay in Denmark.
Especially to Martin, the boss of the company.
When I asked him in the first week, if I could
rent a bike, he answered: ''No renting, for free".
Mange tak.
Sonja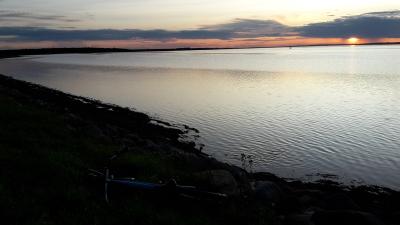 ... link (0 Kommentare) ... comment
Montag, 11. September 2017
Randers, get the last week started
felixw, 16:27h
After having a really nice Weekend in Aalborg with our
horticulture mates, the last week had been started.
After having short night, we begun our morning Routine
in the Regnskov. Was sweaping the floor and cleaning up
the trerrariums. After i entered the snake temple i got horrible
attacked by a Butterfly.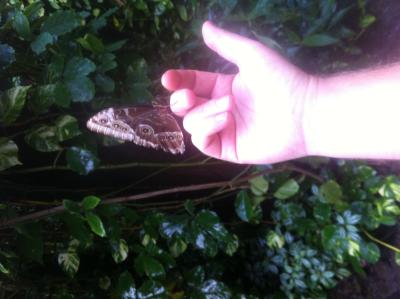 No it was nice.
So we had some different Tasks for the day.
After the breakfast, we started to mulch the ground in the three
greenhouses. After we finished, we cut different types of tropicel plants.
So the whole day we were staying in the greenhouses and sweated a lot.
The day was actually a typical monday but a danish monday.
Everybody was laughing and talking some Weekend jokes again.
I wished to understand the jokes it seemed that it was really really funny.
So it was a very good start into the last week.
... link
Our trip to Aarhus
danone, 10:33h
In our second week here in Aalborg the company we are working for Buus & Co invited us to see one of their biggest projects they're really proud of.
It is located in the middle of Arrhus on the top of a big shopping mall called salling.
Its a really impressiv place where you can sit down to drink a coffe or eat somethig while you got one of the best views nearly over the whole city of aarhus!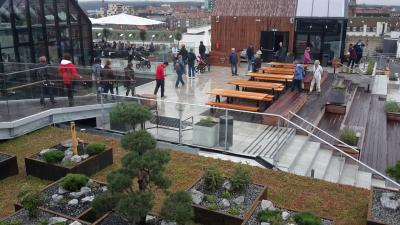 We met up with marc the foreman of this project. After we arrived in Aarhus we were really impressed because he's just 22 years old and he had to manage a project like this. While we were walking arround he showed us everyting and answered all of our questions.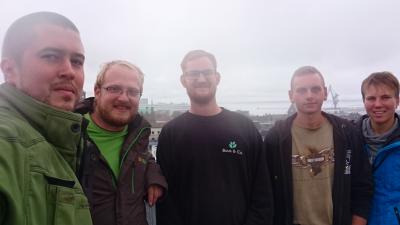 We want to say thank you for this great oppertunity to see Aarhus and a project as big as this, we really enjoyed it! We are looking forward to see more of this lovely country, every day we spendt here in denmark was great and we were really suprised how friendly and hospitable the danish pepole are, we love it!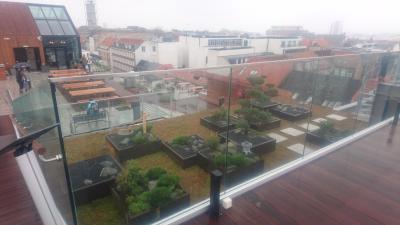 Dan
... link (0 Kommentare) ... comment
Resume - second week in Denmark
jonashoidem, 01:00h
After the first week, where we were very fortunate with the weather, the second week brought some rain. Nevertheless we had a great time thanks to the hospitality of the people here.
During the work, Sonja, Dominik, Dan and I could take part in the last bits of work that had to be done to finish the parking space and the pavement of a newly built supermarket.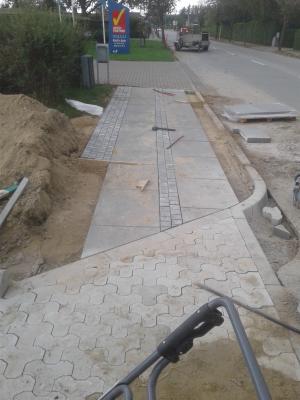 Not only at work we had a great time with the people from Buus & Co, but also in the evening we had some nice experiences, when Per Kjær showed us his private garden and Vildmose, a swamp near Kongerslev. On Thursday we got a guided tour through Arhus by Marc, a young foreman at Buus & Co, which was very interesting as well.
On Friday Finn Rasmussen Slaikjer showed us around at Agri College, Aalborg itself, the surounding area and Rold Skov a forest, a Danish national park.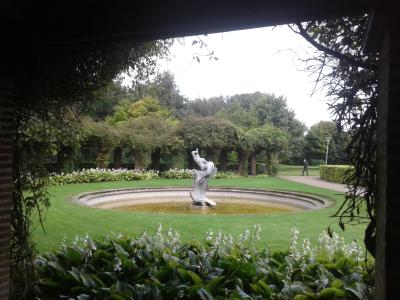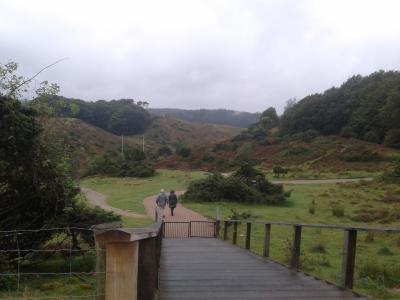 Not only during those partially official occasions we met the Danish people as very nice, open-minded and very nice folks, but also in the party street of Aalborg - Jomfru Ane Gade, where it was as if Aalborg was not only a big city, but also a huge village, where anybody knows anybody.
... link (0 Kommentare) ... comment
Samstag, 9. September 2017
Long day on Beach
d-maier, 20:40h
On the second saturday we got up at half past 9. Then we had breakfast together. After breakfast we took some time to clean our rooms and played some table tennis together. At 12 o'clock we drove with our car to a beach at the east side called Hals. It looked more like a wild beach with many fishes, plants and a forest nearby. At the beach were just a few other people what makes a nice private atmosphere. First we took a hike and discovered the area than some of us went swimming on a good place. The rest of the afternoon we sat on the sand and chilled out until we drove home again. In Aalborg we had some nice pizza in a restaurant. It was relaxed but good day.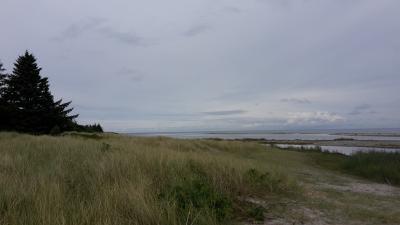 ... link (0 Kommentare) ... comment
Sightseeing in Aalborg
d-maier, 20:06h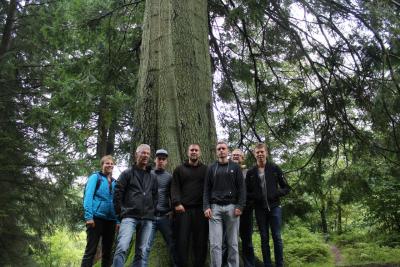 Yesterday we went on a nice trip with our exchange teacher Finn. We met us at the Agri College at half past 8. First Finn showed us the hole Agri College and we talked about differents in Denmark and Germany. After the trip the coffee was brewed so we had some breakfast together. Next we visited a nice park in the city of Aalborg. Then we walked to the harbour where he showed us some plantings, special stoneworks and well- known buildings. A park where we had a great view over Aalborg and the landscape was the next step. Then we discovered a special kind of forest where many different kinds of trees from all over the world are planted. Last but not least we visited an well- known wild national park of Denmark. There we had some hikes and Finn told us the story of the national park. When this interesting trip was over we said goodbye to Finn and drove back home. We want to say one more time thank you Finn for the great and instructive day.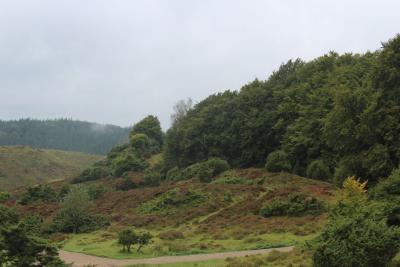 ... link (0 Kommentare) ... comment
Freitag, 8. September 2017
Randers the first day
felixw, 18:03h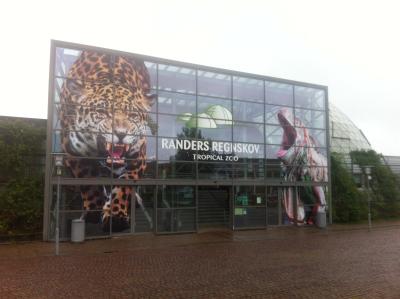 When we arrived on the first day there was some
confusing about the time to start working.
So we were one and half hour to late. But when we
finally arrived at the Regnskov in Randers there was
a warm welcome. Everyone was really friendly
and telling a lot of jokes. So they gave us a
wonderful first impression.
After a little talk with the Boss of the gardeners Sergio
we had a small breakfast with some cereals we met
the right hand of Sergio. A Young danish woman. She
gave us a overview and a trip through the Regnskov.
She told us all the different tasks we have to do for the
next three weeks.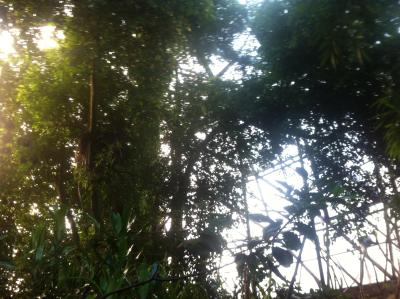 After the tour and a great lunch, we did a few care in
the wildpark of the Regnskov. Just some little Tasks.
After the working day we were very excited
about what is still in this beautiful Environment.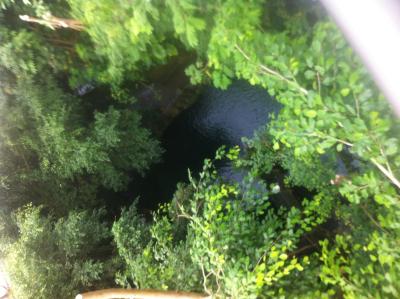 ... link
Donnerstag, 7. September 2017
Discovering one of the most beautiful garden in Denmark
s.eisele, 18:49h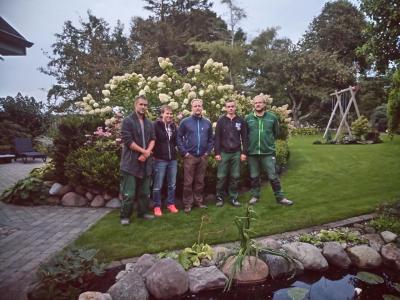 Yesterday was a fantastic day where we could experience the danish hospitality up close.
After work we were invited in the private garden of Per Kjaer who is one of the executives in our exchange company Buus & Co.
He showed us his amazing private garden what you would better call a private park.
Without doubt you can say that Per made his hobby to his profession.
He and his wife put all their heart blood and time into the garden. It is unbelievable how many detais and well created places you can discover in their garden.
After this great guide we made some barbeceau with Per and his family in their lovely garden house.
Also interesting was the trip to the Lille Vildmose, which is a big nature reserve near Aalborg with our private guide Per.
Because of the spagnum it is an important topic, especially for us gardener.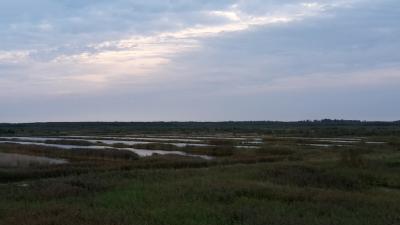 Back at their home they offered us some coffee and danish cake where I have to ask for the recipe.
As a souvenir Per gave us a joung Rhododendron plant.
The cultivation of Rhododendron is his big passion.
We promise to take care about them in their new home country Germany.
Even today I have no words for the hospitality of Per and his family.
That is why my exchange mates Dan, Dominik, Jonas and I want to say thank you for your invitation.
We are really grateful for this wonderful evening.
Greentings
Sonja
... link (0 Kommentare) ... comment
Mittwoch, 6. September 2017
One week later
fee schaeble, 15:48h
After one week it's the first time we aren't doing the morning routine together. A few moments before I have finished cleaning and watering the snake house I found a baby snake that was quite scared of everything including butterflies.
Meanwhile Felix is already high up under the top of the biggest glasshouse cutting some Ficus benjamina. After getting the branches out and getting everything ready for the customers we ate something and then we went outside to Denmarks Park to clean the enclosure of the different pigs.
In the end we cleaned the kitchen. That is also something that we're doing in place of Jens-Christian who is on holidays.
... link (0 Kommentare) ... comment
Second day of working
fee schaeble, 15:31h
The work starts at 7 o'clock with a short meeting of the animal keepers and the gardeners.
After that we have got shown the morning routine of watering and cleaning that we are going to do every morning in place of somebody who is on holidays. We also started to cut out the fence around the Denmarks Park, the outside area of Randers Regnskov. There we also cut the plants along the way.
After a nice lunch we put some mulch out of barks into the enclosure of the nosebears. Then we cut the Lonicera around the buildings and weeded weed.

We're really impressed by how nice all the people here are and almost everyone can speak english on a good level. So if they notice that you don't speak danish they immediately switch to english. It's really really nice.
... link (0 Kommentare) ... comment
Sonntag, 3. September 2017
Greetings from the Northern end of Central Europa
jonashoidem, 22:39h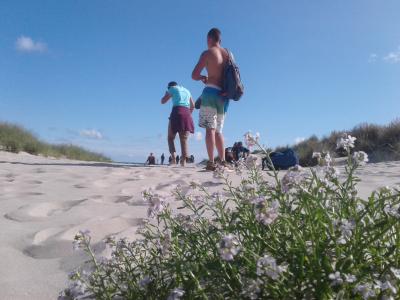 As our first week in Denmark is allready over, it is time to tell you about our first experiences we got here. As far as I can see, we are all having a great time here. Everything positive, that has been told by our teachers has either come true or was even exceled.
After a long and hard trip to Aalborg by car, we all were very happy, when Finn Rassmussen Slaikjer (the local gardening teacher, who is our contact person here in Aalborg) gave us the key to our appartments and we could finally get some sleep in a warm, cosy bed.
After our first night, we all got up quite early and went out to find our new workplaces, where we all got a nice welcome. We were introduced to our coworkers and got our first work assignments. During the next five days, we all learned a lot about landscape gardening in Denmark, which is not as similar to working in Germany. For example Dan and I found out, how to place concrete plates and pavement on muddy ground with just using different mixtures of sand and pebbles ( - mostly sand), as the basic fundament. We even found out, how a small excavator can disappear in wet ground within seconds - and more importantly, how it can get removed from it again.
Some other experiences and days later, it was allready our first weekend in Denmark and the group from Aalborg decided, it was a good idea to head out for the most northern piece of Central Europe, which is near Skagen. It is called Grenen, where Kattegat and Skagerrak (part of the North Sea) meet. We had a great sunny day here and allready can understand, why the people in Denmark are said to be one of the most happy people in Europe. Now it is late on Sunday and I am looking forward to gain even more great experiences here in Denmark. To be continued...
Greetings
Jonas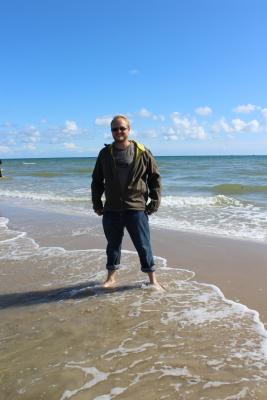 ... link (0 Kommentare) ... comment