Sonntag, 15. September 2019
Thursday
kathi.maus, 19:59h
The day began at 5:30 in the morning. Everyone was tired, it was just way to early in the morning. Jochen and I took the bikes to drive to our company. It took us about 45 minutes. Work began at 7:00.
We finished our construction site today. The days before, we built a small wall and we laid turf.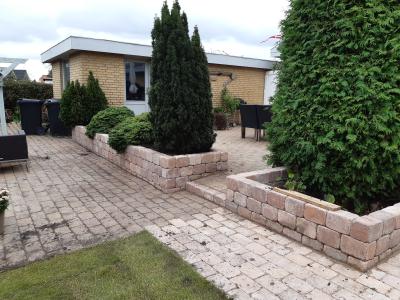 I sweeped the street with a broom. After that we finished the grass. Then we cleaned the construction site, we put everything on the car and drove back to the company. There we put the excavator and all the other things away and cleaned them as well. I cleaned the car and after lunch we drove to another construction site.
A workmate told us what we had to do on the new construction site. First we dug out some plants and removed other plants. By then it started raining.
After the rain we finished up and it was the end of the work day.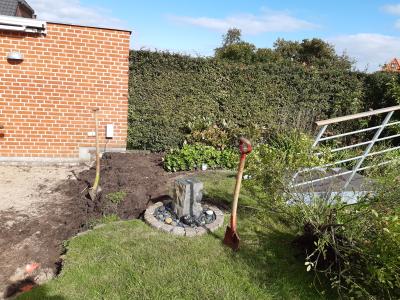 I walked along the river to the sea. It was a beautiful view.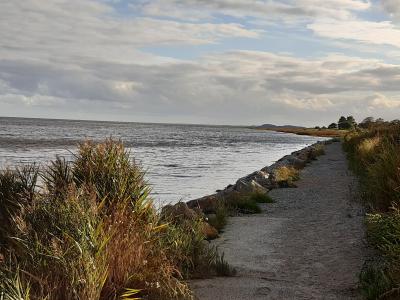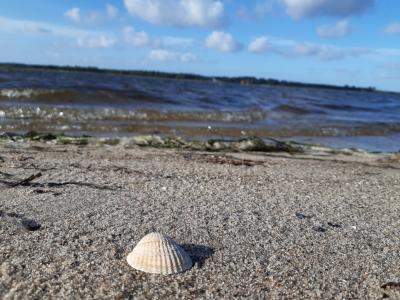 In the evening were cooking together. We had gratinated paprika. Inside was feta cheese and rice. It tasted very good. Everyone liked it.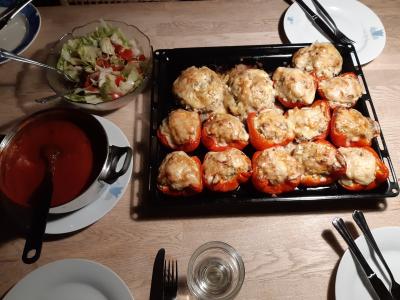 ... link (0 Kommentare) ... comment
Time flies ...
becky_greenheart, 18:31h
It's already 1 week now that Vanessa and I have been working at the fantastic Randers Regnskov Tropical Zoo. We were welcomed very friendly on Monday by Sergio and his team of gardeners, and we also met the animal keepers of the zoo. Everyone is really nice and friendly, we felt like being a part of the team from the start. We could already work at different places, for example inside in the jungle domes and outside where they have a farm with cows, pigs, goats and a nice playground area. We cutted a lot of plants outside growing into the fence and we mowed the lawn with a lawn tractor. We also helped building a new outdoor area for the cows with fresh sand.
I'm really excited to go to work everyday, it's really a very special place. You feel like you are in a different world with all the plants, animals, sounds and scents. It's really fun to clean the windows and being watched by a crocodile or an anaconda snake, and sweeping the floor being observed by a monkey or having a turtle sitting on the path where you just wanted to go with your wheelbarrow to collect the leaves probably never happens somewhere else.
I'm looking forward to tomorrow when I will be back to the jungle again! :-)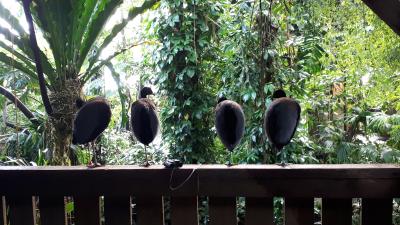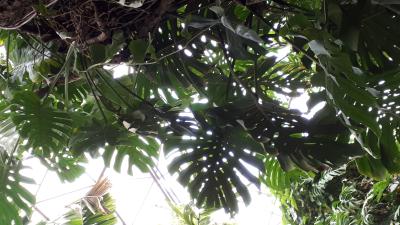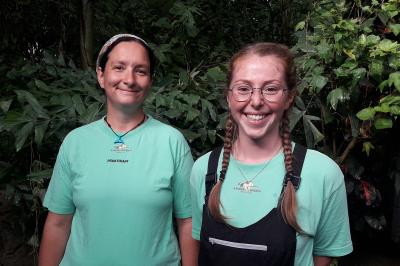 ... link (0 Kommentare) ... comment
Und jedem Anfang wohnt ein Zauber inne...
amillouh, 12:11h
Today is Monday, the first day of the week and also the first day of our Denmark experience. My alarm rang at 5:15, and by 5:30 everyone was walking around the house, getting more and more excited for today. We packed our lunch the night before, so we did not have to hurry on the first day. Jochen and Katharina could ride their bikes to their company and I brought Jenny, Max and Lars to our company with my car. It takes us about 1 hour to get to Elmerhøj. This is the company where Max and I will work for the next 3 weeks. Elmerhøj has 20 employees, a little bit bigger then the one i work in back home in Germany.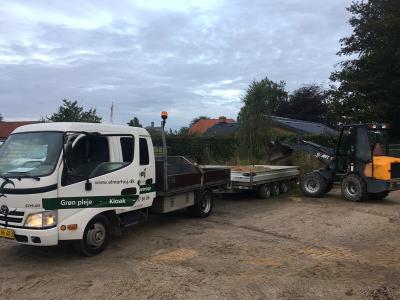 Today we started building a staircase. It's a new construction site we just started today, around a brand new house.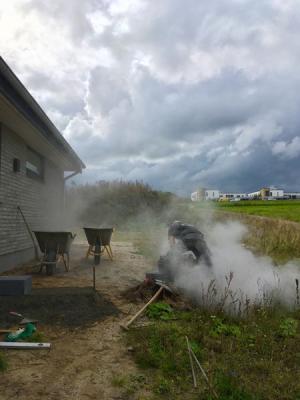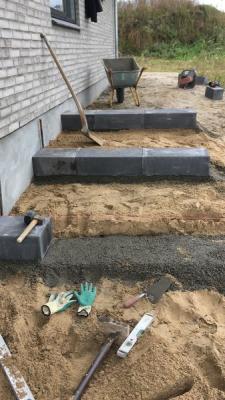 My danish coworker said this garden should be done by the time i leave to go back to Germany, so hopefully i will still be there to see the finished project.
We got off at 4pm and drove back to Aalborg to get Lars and Jenny. On the way back to our house in Egense we went to IKEA and bought a few things we still needed, for example bed sheets, a thermos bottle and cutting boards.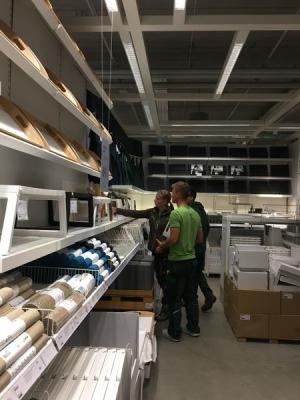 For dinner we cooked spaghetti carbonara and played cards, before everyone went to bed around 10:30pm. Great first day, many more to come!
... link (0 Kommentare) ... comment
Arrival and first day in Denmark
_lars_, 10:58h
After we all met in Hannover on saturday afternoon we went groceries shopping at Aldi, because most groceries are cheaper here in Germany. Then we went to a chinese restaurant to eat buffet, which was really amazing. There we could also get to know each other a little better. After a noisy night at the backpackers hostel we drank some hot chocolate and walked a couple of minutes to the nearest bakery to get breakfeast and some food for the car ride up to Aalborg. We left Hannover at 9am and arrived at our house at 4pm. Afther we settled in our house Finn came and told us the most important things about our stay in Denmark. In the evening we cooked together and played some cards.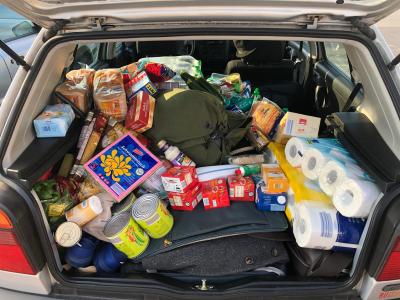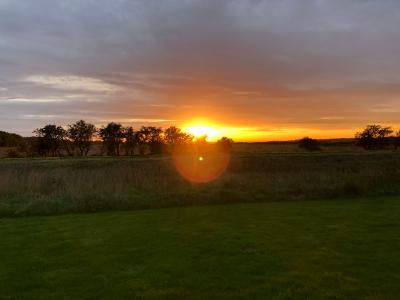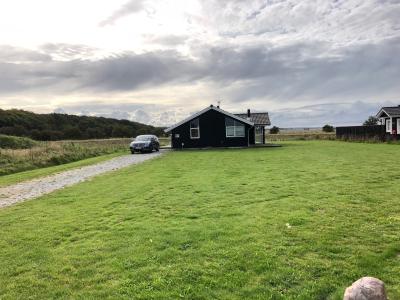 ... link (0 Kommentare) ... comment
The first weekend in Denmark
jnsm, 10:45h
This day we all knew, would gonna be a good day, because it's weekend. We started with a great breakfast with cereal, orangejuice and coffee. After packing our bagpacks, we started going to Løkken, to see the most beautiful sand dunes. It was so great to feel and smell the sea at this wonderful place in Denmark. Later we went to Rubjerg Knude, where we could see a lighthouse. But it was so windy, that all the sand was pretty much everywhere, all the way down to our underwear. We also went to a little cafe, were we ate some cake and drunk a cup of chocolate. Some of us also bought some handmade cups, which were so lovely.
A few hours later we got back into our cozy cottage and cooked a typical meal from Germany, respectively from "Schwaben", it's called "Käsespätzle". Later that evening we played cards, like almost every evening.
Furthermore, i'm going to tell you something about my company in Denmark, it's called OKNygaard, where i started working on monday this week. The whole week i worked in different teams, where we plucked out weed, cutted hedges, planted many cotoneasters and started building a paving. All employees are so helpfull and nice to each other, so that i felt very welcome working here.
I'm curious what I am going to do next week and what new expressions I can get. The work here is different from the work in Germany.
We will see and I will tell you how my week was going in my next block next week.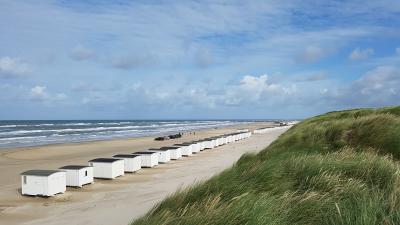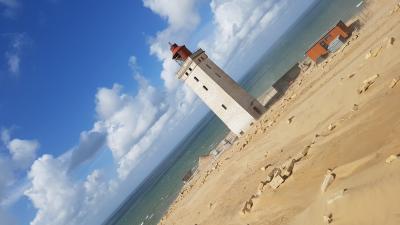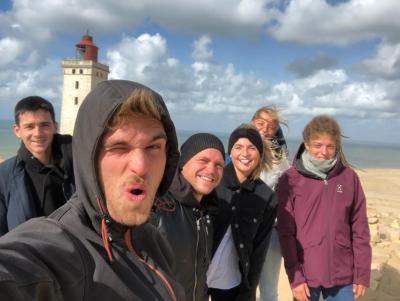 ... link (0 Kommentare) ... comment