Montag, 17. September 2018
Alles hat ein Ende, nur die Wurst hat zwei!
kayro, 20:53h
Everything has an end, just the sausage has two! (German saying)
Everything has to end and even our stay here in Denmark is nearing its ending.
I had 2 great weeks here in Denmark where I got to visit remarkable landscapes, amazing sights and beautiful towns. Because of a recommendation of one of my colleagues at Buus&Co we ate a "Bøfsandwich" on Sunday and now I know why the Danes are always so happy.
Apart from our leisure it is really nice working in Denmark, I learned new things at the company here and I learned to appreciate new tools. I am really grateful for the nice colleagues at Buus&Co who integrated us right from the start.
It is always nice to talk with them and we have really interesting working sites, one day I got to use the "HeatWeed" for weed control. The "HeatWeed" heats water to nearly boiling temperature. The hot water kills the cells inside of the plants and can destroy the roots of plants, so even plants that regrow from their root, like Taraxacum sect. ruderale, die and won't grow back. It is great way for weed control in driveways, because it is without chemicals and without open flames.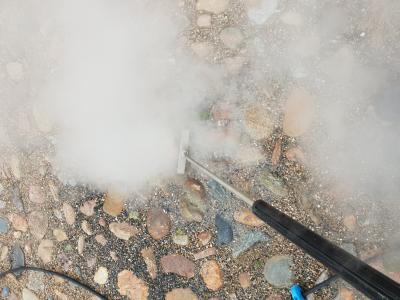 I am really looking forward to see what the last week in Denmark brings for us.
But the biggest problem is, like a colleagues always says: "Time flies by when you are having fun!" and so my time in Denmark is fleeting fast.
... link (0 Kommentare) ... comment